You can upload attachments to your contacts profile, this is useful in keeping track of proposals submitted, contracts, or other useful information that been sent or is associated with the contact.
How to add an attachment
Step 1: Click on Contacts (CRM) on the left navigation.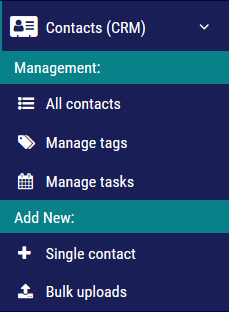 Step 2: Click on the name of the contact you would like to add an attachment to.


Step 3: Once you are on your contact's profile page, scroll to the bottom of the page and in the Attachments section, click the Select Files button.


NOTE: You may select and upload the following file types to the system: zip, jpg, png, gif, ppt, pptx, xls, xlsx, doc, docx, pdf, and csv. You can only upload files that are no more than 2MB in size.
To view existing attachments click the OPEN button in the Attachments section.  Here, you may click the file link to download the attachment. To remove an attachment, click the trash icon next to the attachment.