The Live Visitors section is a stream of all your websites' visitors in near real time (1minute delay).
To view your Live Visitors, click the Stats tab then click the Live Visitors tab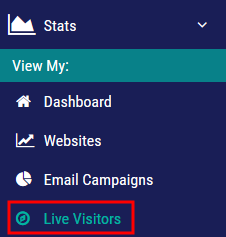 On the Live Visitors page, you can see all of your visitors starting with the last person to visit your website. The visitors who have yet to be personally identified appear as anonymous. Your current contacts or leads are visible by name. Clicking their name or the "Gear" will take you to their contact profile.
Anonymous leads are tracked and scored behind the scenes. Their full profiles will remain inaccessible until they have identified themselves by either filling out a form on your website or by being added as a NEW CONTACT and sent an email by you.
You can use the filter options to see visitors from a certain URL and by date range.
You can see the visit details for each visit entry by clicking the number link located under the "Pages" Column for an entry. Visit details include the date of visit, the number of visits, how they got there (via), the pages viewed, the time of the page views, and the total time spent per page visited.
The link for the page viewed is truncated by default. To view the full link, roll your cursor over the link. To navigate to the page your visitor went to, click the link and you will be directed to that page in a new browser window.