If you have a large contact list, you probably don't want to waste time adding them to your MDC DOT account one by one. With the Bulk Contact Uploader, you can add up to 10,000 leads at a time.
Bulk leads must be uploaded in .CSV format. You
must
use the template to upload your contacts.
Click here to download a blank .CSV template
Do not edit, delete, or add to the column titles of the template.
A minimum of an email address is required to upload a contact. All other fields are optional. It is okay to have blank cells/columns/fields.
Go to the Contacts (CRM) page in the left navigation
Click the Bulk uploads below the Add New: tab
After you have put your leads' information into the .CSV file:
Go back to the Bulk uploads tab
Click on the Select Files button to select the .CSV file from your local hard drive
Click Add Contacts for the list to get processed

Processing: The number of leads being processed
Updated: The number of leads that are already in your account

If you select any mass actions, they are applied to your updated leads

Duplicates: The number of leads that already belong to another user

Select contact type
(optional) Select Mass Actions

You can read more about these in the sections below

Click Add Contacts
NOTE: It could take the system up to an hour or longer to add your leads – depending on list size. Please do not refresh the page or navigate away from the page until the app has completed adding your leads.
You can: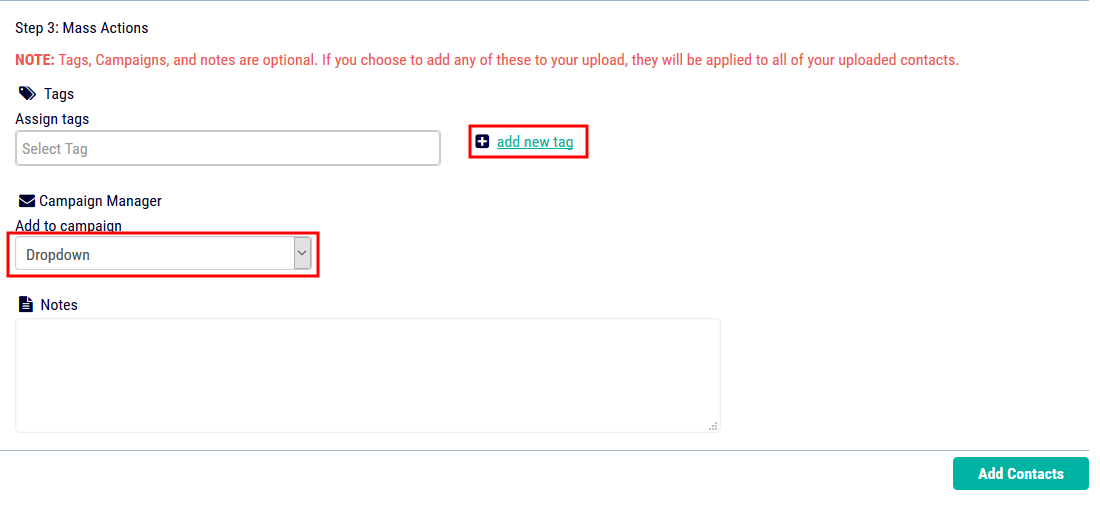 Or create a new one by selecting "add a new tag" to the right of the dropdown menu

Type in the text box below CUSTOM TAG:

20 characters max
You can include hyphens but no spaces or special characters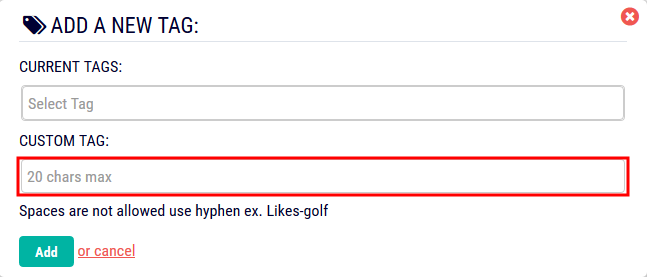 Select the ADD button
Be sure to click Add Contacts after you have chosen your desired options (Campaigns, Tags, Notes).
Choose a campaign from the Campaign Manager dropdown menu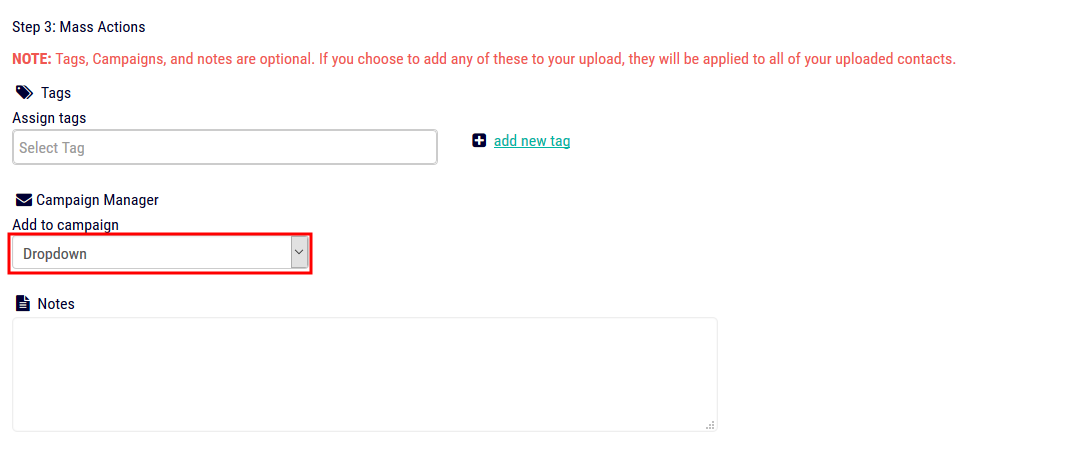 If the size of your upload is greater than the number of your remaining slots, you will need to one of the following:

Upload without a campaign
Split your upload into two files of the contacts who you will add to the campaign and the ones leftover
Upgrade your account level via My Billing

Be sure to click Add Contacts after you have chosen your desired options (Campaigns, Tags, Notes).
Click and type into the text box below Notes:

Ex: "This is a list of contacts I met at a conference in San Francisco in June 2014"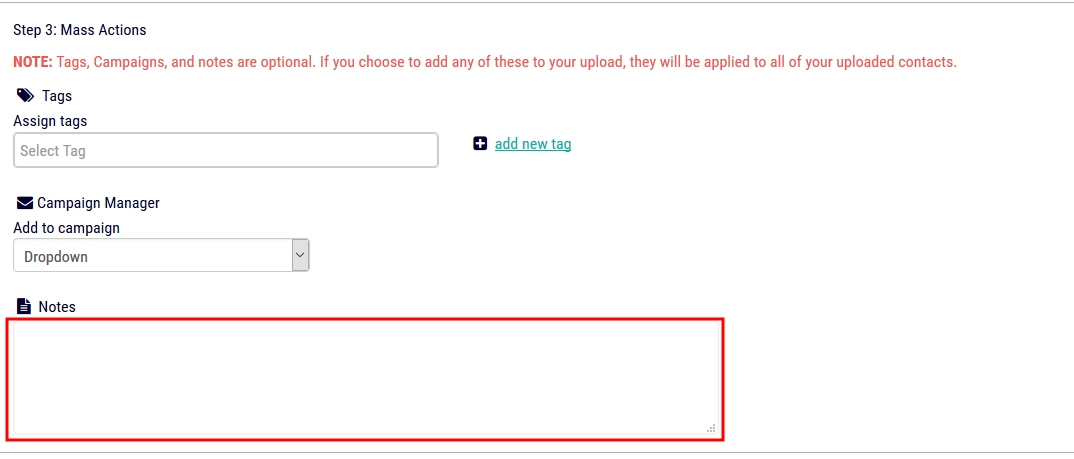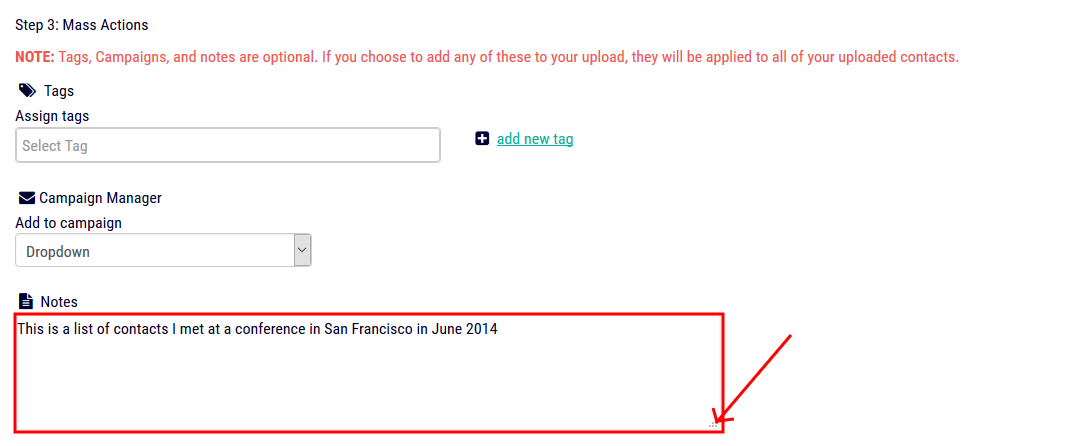 You can adjust the size of the text box by clicking and dragging the bottom right corner
Be sure to click Add Contacts after you have chosen your desired options (Campaigns, Tags, Notes).
You can upload up to 10,000 leads at a time (without a campaign).

…(just one contact or using the bulk uploader), add to campaigns, and hit your account limit, you have two options:
The system will confirm the account overages that you will incur during your current billing cycle in order to add these new leads. You can click the confirmation button to accept the overage costs and continue uploading and adding your contact(s) to a campaign
Or you can remove contact(s) from campaigns to make room for additional campaign contacts
…or website that is setup to add to a campaign automatically, and you currently have the maximum number of allowed contacts on campaigns:
The lead will be added to your account and to the campaign (as we do not want you to lose new leads), and you will be notified to:

Remove other leads from your campaign to make room for your new contact
Or upgrade your account to the next level.

*If you do not do one of these things within three days, your account will be upgraded to the next account level and charged the applicable amount on the fourth day.
It is the responsibility of the account holder to manage the number of leads from one month to the next. We do not provide refunds or prorated amounts if you remove a lead from a campaign the day after your subscription renewal date. Once a lead becomes unsubscribed, they will be removed from your campaign contact limit.
Click here to learn how to add a single contact.