Step 1: Add URLs
Go to Account
Open the Tracking Codes section
Paste the full url of the website that you want to be tracked by MDC DOT

This includes the "https://" or "http://" part of the URL. If you enter "http" instead of "https" (or vice versa), your website will not be tracked. You can check whether you should be using "http" or "https" by visiting your website.
If you want your subdomains tracked separately, then add those URLs as well. If you do not add any, then all subdomains will be tracked under the main (root) domain.

Click the "Add" button
Then click the "Save Changes" button
Step 2: Install tracking codes
How to install the tracking code:
The tracking code needs to be put in the source code of every webpage that you want to be tracked.
Paste the tracking code before the closing </body> tag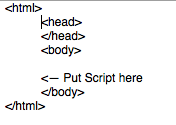 Step 3: Test tracking codes