If you're trying to bulk upload contacts, we recommend using Microsoft Excel for the best results, but we understand that many users use OpenOffice as well.
If you attempted to view a CSV file in OpenOffice, you may have found yourself looking at a jumbled mess of characters with everything in one column. Or maybe you saved a perfectly fine CSV file using OpenOffice, but have been unable to upload your contacts. If you had either of those issues or a similar issue, please follow the instructions below.
[/accordion_block]
When you attempt to open your file with OpenOffice, you will see this window along with all of the data in the spreadsheet in one column: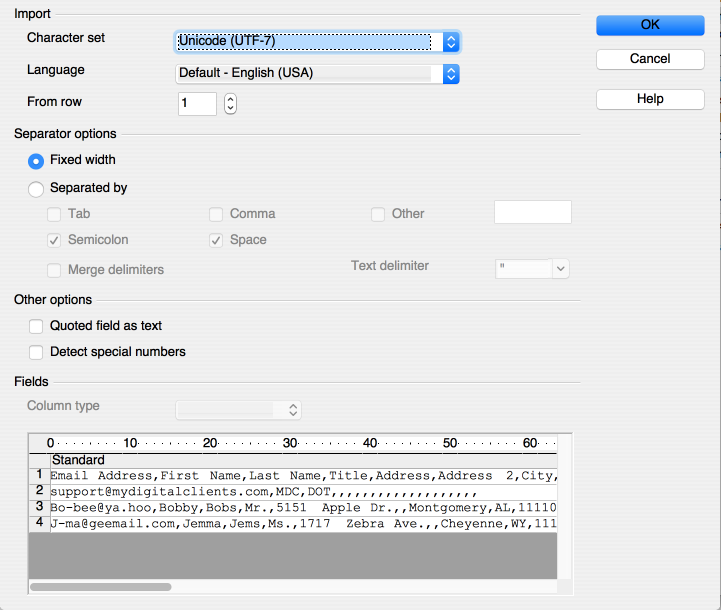 Please follow these steps to correctly view the file:
Go to Separator options
Click the radio button to the left of Separated by
You will notice under Fields that the text is no longer in one column, but that Email Address is separated into two columns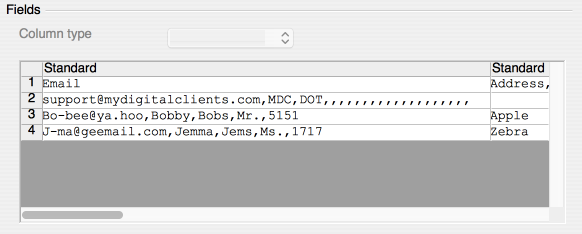 To correct this, un-check the box for space

To separate the rest of the jumbled data, check the box for Comma

 Click OK
You should now be able to see your file correctly

[/accordion]
When you save your file to upload, be sure to save it in CSV format. This is the only file type the bulk uploader will accept. You can find more details about how to bulk upload here.
If you followed the instructions above and you are still having issues with your file, please contact our Support Desk. Our contact details can be found below.