How do I see the email opens, clicks, visit and links that my contacts may have done?
When the MDC DOT system sends an email to a contact, if they only open and do not click any links in the email to visit your website(s) their scores will go up based on your scoring system rules, but their page views and time spent may still remain at zero or won't change.
The system tracks all contact activities with the emails sent through our system to them, and can detect if they opened, what links they have clicked, if they visited your website from the email, if the email bounced or if the contact unsubscribed.
See details of emails sent, emails opened, emails clicked, emails bounced and unsubscribes for each contact
To access this information click on MY CONTACTS in the left navigation.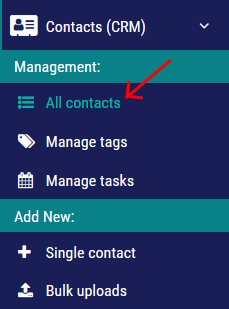 Choose a contact by clicking their name or the "Eye" icon.



On the contacts profile you will see a section called ACTIVITY OVERVIEW. In the blue boxes you can see your contacts current stage, score, their total email opens,  email clicks,  website visits,  website page views, time-spent on your websites and downloads since you they were added to MDC DOT.
Click the "See All Activity" link to view a complete history of every interaction your contact has done.

Use the filters to sort the activity table by activity type and by data range. By default all activities will appear in the table from latest to oldest.


Click the "Details" link on any activity entry to get specifics on the activity that took place.

To see the total stats (all leads) for opens, clicks, etc per campaign, visit the "My Stats" sections and click "Emails".
Other helpful related articles